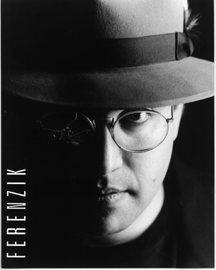 Grab your passport and travel The World of FERENZIK! First, stop off in Borneo and visit with the legendary "Wild Man." Then take a quick excursion through the underworld -- the "Devil's Playground." Finally, seek out the mysterious "Wheel of Nesh." It's all waiting for you!

John Ferenzik, keyboards and guitar for TR-i's Individualist tour, has some projects out on his own. Here's the ordering information:



John now has his own web page. Visit him at http://www.ferenzik.com to order any of his CDs.

You can also E-mail John at wildman@ferenzik.com.

So far, 2348 different visitors from a total of 6360 visits have been here. This is visit #1 from your host. The following list of album titles is also formatted for viewers that support HTML3-compliant tables. If your viewer supports Tables, please let me know and I'll fix it so you can get the table presentation.
---

indicates an section that has been updated in the last two weeks.


indicates an section that has been updated in the last 24 hours.
---
Explore The World of FERENZIK
The Releases Hop on and explore!
---
Includes:
Wild Man of Borneo
Devil's Playground
Wheel of Nesh
Zero Points For Zeus
Reviews

The "Help" It's been said you can't get good help these days...
---
Includes:
The "Help"

The Inner World John's Background information
---
Includes:
The Inner World


---

The World of FERENZIK is brought to you by Roger D. Linder (roger@rocemabra.com) & Rocemabra Web Design Services