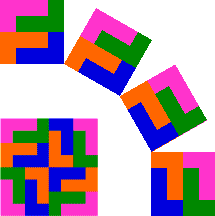 Merry Christmas 1996 and
Happy New Year 1997!
Time again for our family update letter, continuing with the tradition set back in 1993. And once again, look for the accompanying web page at http://www.rocemabra.com/roger/christmas-1996.html.
Roger's in his 19th year at the California Department of Water Resourcesas a computer network specialist. He's retired as Scoutmaster, but is active as the Chairman of the Board of Business Administration at church and Conference Communicator for Sacramento Conference 8 (the collection of 19 Sacramento-area Lutheran churches). He's also quite involved with the World Wide Web and produces home pages for several national recording artists, a syndicated radio program and church pages at the congregational, conference and synod level.
Cece is working as a noon duty aide at Center Junior High School here in Antelope. Earlier in the year she worked distributing Yellow Pages directories and telephone books throughout the area. She followed the Marching Band faithfully through their several field show competitions. She also celebrated the big 4-0 this year with a special party of family and friends.
Matt is 16, a junior, and driving! He's active in the Jazz Band and Marching Band at Center High School and plays the tenor sax as well as the bass guitar. He recently completed his Life Scout badge and is working on his Eagle. He was appointed Junior Assistant Scoutmaster in our new troop. He's also developed an interest in computer programming and has created several games on his programmable calculator.
Brad is 13 and in 8th grade at Center Junior High. He's still playing the trumpet and has been alternating between first and second chair. He's very anxious to join the High School Marching Band next year. He's also in Scouts with a rank of First Class and is very close to completing the Star rank. He and our new cat (well, he's a year old now) Midnight are nearly inseparable!
Here's wishing you the best of the Holiday Season and all of 1997!
The Linders
roger@rocemabra.com
cece@rocemabra.com
matt@rocemabra.com
brad@rocemabra.com